Natural stone tiles are the perfect option for creating timeless, organic looks. With summer almost upon us, now is the time to revisit your landscaping and outdoor projects.
We have put together the following Natural Stone Style-Guide to help you select the right option for your next project.
Sandstone is a sedimentary rock made up of consolidated sand grains. These grains have been carried down the river and packed together at a low heat over time and gradually become cemented into rock. As it forms over time, it develops different layers of colours. These colours become the sandstone we know and love as they give the pavers their natural tones and character.
Our natural sandstone-look pavers replicate the many colours and textures we see in natural sandstone but with a hard-wearing porcelain finish – making them suitable for outdoor use.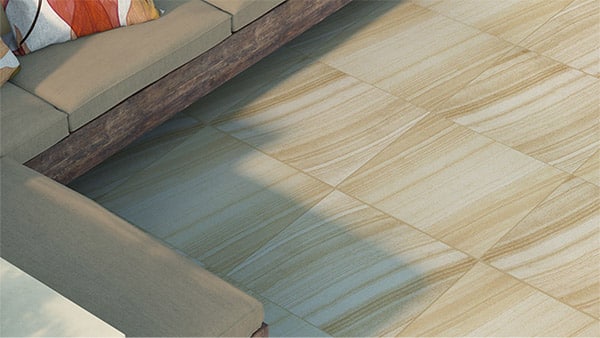 Travertine is the perfect option for pool areas, patios or outdoor-entertaining spaces. Our Silver Travertine is naturally an anti-slip tile, which is great for durability and upscaling around the pool.
The veining in the silver travertine stone blends perfectly with the natural elements of the outdoors, confirming you will enjoy this stone for many years to come.
Welcome the timeless aesthetics of genuine Carrara marble into your home. Carrara is ideal for those looking to create a seamless look from room to room. It not only offers great aesthetics but supreme durability too.
Choose from the natural stone options or our porcelain dupe that features the realistic veining and marbling we love about Carrara. These give you the look of the natural stone but at the fraction of the price and upkeep associated with genuine natural stone.
We recommend Carrara for creating luxury and timeless looks in your kitchen, bathroom or floors.
For the best tile results that meet the Australian and New Zealand regulations for splashbacks, walls and floors, get in touch here.