Your bathroom is a sacred place for self-care and solace —it deserves your attention. There are many components which go into creating a dreamy bathroom and it can be overwhelming to address them all along the way. So, before you embark on your bathroom renovation journey, here's what you should think about.
1: Storage, glorious storage!
Source: Cheap Tiles Online
It is easy to get swept up in the details and forget about the most important part of a bathroom—where are you going to store all your tile cleaner? We're only kidding (mostly). But seriously, being one of the smallest yet most used spaces within a home, bathroom storage requires innovation. Our biggest suggestion is to look for ways to integrate your storage into the space naturally as apposed to making it feel like an afterthought. For example, if you have free wallspace along your shower or bathtub, consider installing a niche. Niches offer a convenient storage solution and when paired with a feature they create a unique interior design moment.
2: Create a timeless haven
Source: Canva
Every morning, your bathroom sets the tone for your day so it's important that you don't tire of the design too quickly. Think about how you can create a haven which you will love in 5-10 years to come. Ask yourself, what are some features which you could adopt to achieve a timeless aesthetic? For example, for those looking to invest in their bathroom long-term, marble, grey or white gloss feature tiles offer a classic and clean look whilst remaining on-trend for years to come.
Source: Cheap Tiles Online
Looking to add a little flair to your new bathroom? A tile feature wall is a fun way to highlight your style and differentiate your bathroom from the rest. We suggest choosing a feature tile which complements the colours that have been used throughout your space but in an alternative texture or size. For example, if you have used large 600×600 white floor tiles throughout your space, featuring a white or carrara fish scale tile would contrast nicely and add a creative touch. For more tile feature wall ideas visit our website.
4: Get colourful with grout
Source: Cheap Tiles Online
The first question you need to ask yourself when choosing your tile grout is "do you want your grout to complement your tiles or be an artistic feature?" If you'd like to emphasise your grout as an artistic feature, we suggest choosing a colour which contrasts your tile colour scheme as seen in the image. Alternatively, if you'd prefer your tiles to be the artistic statement and your grout to behave more as a background element, we advise selecting something more inconspicuous that blends in. For more grout options or advice, visit our website.
5: Stick to the rule of three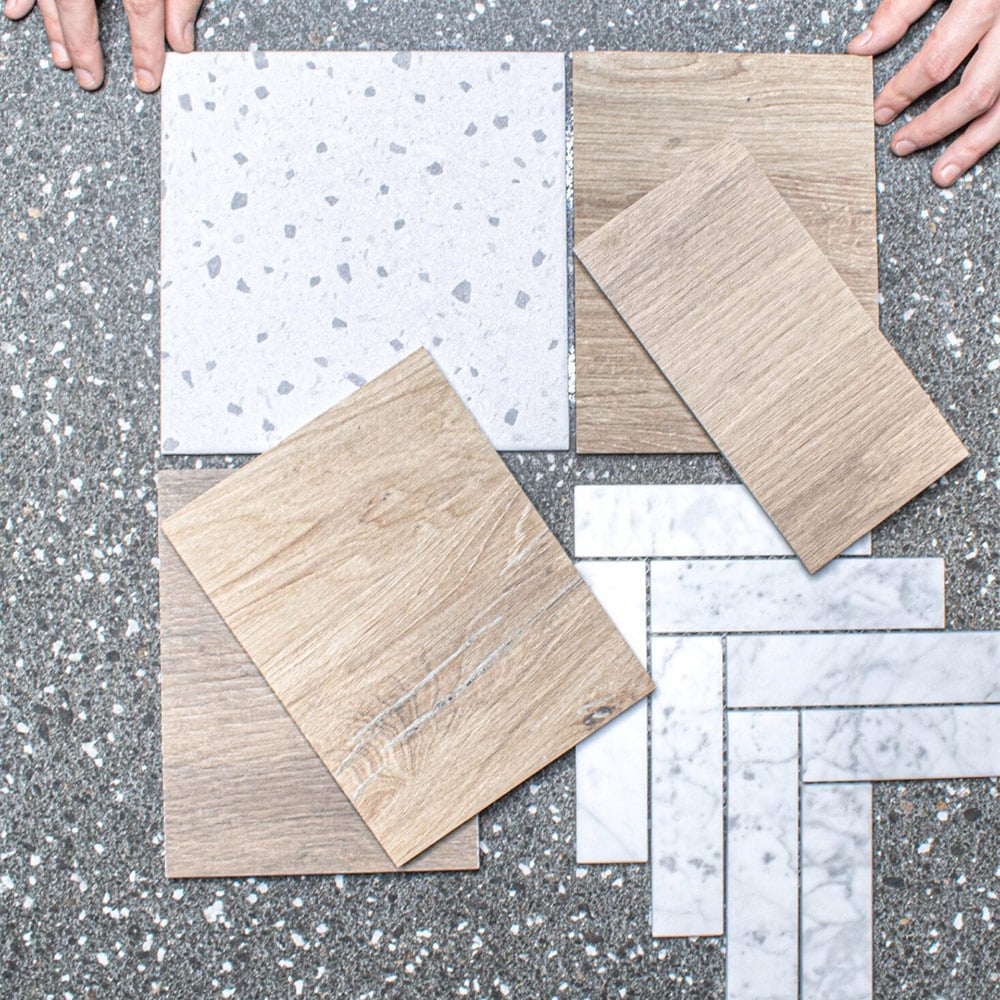 One mistake we often see is choosing too many tiles. Why is this a mistake? Well, as we said previously, your bathroom is a place of solace. Once you start trying to match 3-4-5 types of tiles, the process of renovation and design can become a little bit overwhelming. To avoid this or inadvertently clashing with other focal points in your bathroom, we suggest sticking to the rule of three—choose a maximum of three tiles. This will help your renovation look less overwhelming and more stylistically coordinated.
For the best tile results that meet the Australian and New Zealand regulations for splashbacks, walls and floors, get in touch here.